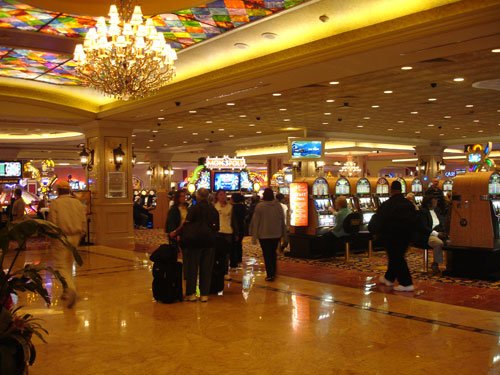 As I mentioned in Part 1 of my Atlantic City article, Harrah's invited Man Tripping to visit the recently renovated ShowBoat Hotel and Casino.
While heading there, I wasn't really sure what to expect from Atlantic City ... would it have that carnival atmosphere like Vegas and Reno with different themes competing for your attention, or would it be strictly a place to gamble like the riverboat casino located next to my office (Grand Victoria Casino in Elgin).
ShowBoat Atlantic City seems to be between themes right now, the hotel generally like it's name suggests is certainly a New Orleans themed venue, but it is tasteful and too tacky.
Though they are in the process of emphasizing the House of Blues angle rather than the gaudy and often tacky "Mardi Gras Theme" elements such as plastic beads. As a fan of Mardi Gras, I have to say that I enjoy tacky and gaudy, but the House of Blues / rock and roll atmosphere is certainly much more chic and fun for a man trip. I guess the way to think of it is that this hotel is trying to become "New Orleans" not just "Mardi Gras" and that is a great thing!
Check in was very quick (in part because we arrived early), but the desk staff was very courteous and knowledgeable and luckily our room was not a long walk or difficult to find (a problem with Vegas mega-resorts). Upon arriving at our room in the Bourbon Tower we were excited to see that it was very spacious, clean, and even had a carnival mask on the pillow - emphasizing the classier aspects of ShowBoat's Mardi Gras theme.
While not as posh and huge as the House of Blues suites, a group of guys could easily be happy sharing one of these rooms - either sleeping on the floor, the couch, and ample space to bring a cot in too. The room even featured a large flat screen TV and while the selection of HD channels was sparse it did have ESPN in HD.
One of the nicest features of the room however, was the bathroom. Not only was it very attractive looking, like the rest of the room, but it featured double sinks. This isn't just a great thing when traveling with your wife. It is also very important to consider if you are packing 3-4 guys in the room and everyone is getting spiffied up to head off to the House of Blues for a concert or clubbing at Harrah's Pool Party.
The casino floor isn't as large as many casinos - especially the Taj Mahal right next door, but that's ok! They had a good selection of slots - including plenty of penny and nickel machines - and they had a good selection of other games as well. Like I said above, it is a Mardi Gras themed resort, but it was not overdone, and had classy touches such as a band up front across from check in, and various people around the casino handing out beads.
If you are a looking for a fun place to stay in Atlantic City, you really can't beat ShowBoat because it is right on the boardwalk, friendly staff, clean, and has one of the best music venues - the House of Blues - right there inside the casino.